There are numerous additional menu boxes that are activated when navigating through the StageDirector software.
Each of these menu boxes has been designed to provide the most useful navigation features for the user.
Foot Pedal
The foot pedal emulates the <up> <down> <right> and <left> arrow keys. Typically the foot pedal is used for live stage performance for presenters and singers, guitarists that require 'hands free' control. When right arrow is pressed, StageDirector navigates into playlist/music library. Further activation of the <right arrow> key or foot pedal button will result in the user navigating to a document and being presented with the option to navigate to next or previous song, transpose, or change font size.
For the menu to be presented press right arrow, to action the menu selection press right arrow again. The menu will automatically disappear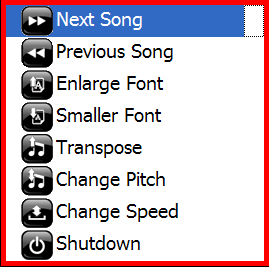 TouchScreen Control Bar
This feature is typically useful for a touch screen device. It also contains all the actions that you will find in the performance menu. The touch screen control bar can also be activated by mouse clicks.
The touchscreen will allow a user to select tabs or items on the tree menu using a press with the finger.
Keyboard and Mouse/Trackball
StageDirector software will require a keyboard and mouse/trackball for editing functions. With a keyboard, the user can edit and input like any other software application.
The Search Panel
The search panel enables sophisticated searches of the StageDirector database. This can be a useful feature at a performance.
The search filter can be used to make specific selections from the entire music library. The filter is the search text in the search filter box, and is applied to the title, description, artist and genre. All titles in the library that satisfy the criteria will be presented in a list.
This feature is typically useful for the 'Open Mic' performances or 'jam sessions' where various artists will want ad hoc availability to the chords and words to performance titles. For example, if someone was to ask "do you have Do You Know The Way To San Jose? I can't remember who sings it", you would simply type "San Jose" into the search box, and if the tune is in the database, it will show.