Navigation using Arrow Keys
The Arrow Keys
Typically the arrow keys are used for navigation through StageDirector
The user can use the <down arrow> key to select a playlist, the <right arrow> key to 'drill down' into the content of that playlist, and <right arrow> key again to select the song to view in that playlist. Using the <right arrow> key again will give you options about that chart including:
Which view – you can determine what instrument view of the chart you want to see on your screen (where multiple views are available). Once you have selected this view, all of the other charts you see on that particular screen will default to this view.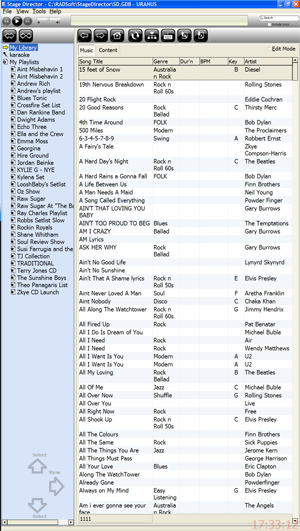 The Performance Panel
Using the <down arrow> key you can select the performance title and drilling down will show the content of the item selected.
In performance mode (ie edit check box is not checked) the <right arrow> will display the performance panel as shown.
The performance panel provides navigation, transpose, mp3 player and other display functions, to select a function press <right arrow>. For instance :
Transpose up/Transpose down – allows you to transpose the key of the chart for this song only;
Enlarge font/ Smaller font – allows you to change the font size for this chart.
You can also select the <left arrow> key to 'move up' the tree.
Navigation back to Home
To navigate home simply use the <left arrow> key or use the left arrow key in the touch screen toolbar. The <escape> key on the keyboard will perform the same function.