There is a karaoke feature built into StageDirector. The principle is that the karaoke files backing tracks are played from StageDirector while the lyrics show on the StageDirector screen. As such, the karaoke player function of StageDirector works best with a dual monitor.
So then the karaoke host person determines what person performs the music file. Typically the software uses mp3 files which have an associated CDG file. The CDG file displays the graphical information on the second screen.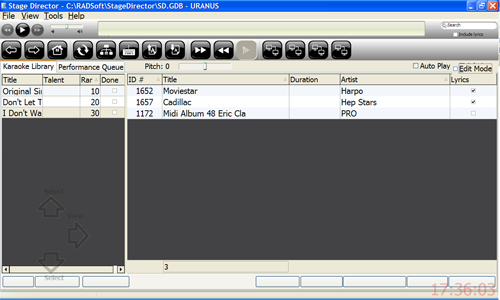 Using Screen grabbing software StageDirector can display this information on other machines.
The karaoke feature has scanning facilities and is able to scan for additional karaoke mp3 files and associated CDG files. StageDirector will automatically add the material to the database and make it available for searches.
When there are a number of items in the performance list StageDirector can be set to autoplay the performances. There is a pre-determined space between the songs that will display the name of the next performer.
Other functions
StageDirector has functions which include removing songs from the playlist library. Each song performed is saved to the database. From this database you can determine the top 100 songs performed over time.
Future version will provide playlists of karaoke titles. Including adhoc playlists derived from the top 100 or top 50 songs performed in the database.

StageDirector also allows for temporary storage of external titles from DVD or CD
Karaoke Library Toolbars
Using the <search files> button , StageDirector will search the hard disk for karaoke titles, when a title is found StageDirector will attempt to extract 'artist name' and 'song title'. In some situations the extracted results are the wrong way around for this, If this occurs, use the 'Swap Title & Artist' function.
'Delete Entry Button' deletes selected records or karaoke entries.
'Export list' will export the library ready for printing

The top tool bar allows the karaoke host to put into the karaoke player in autoplay mode. This allows the performance to continue without human intervention. Between performances there is a predetermined time frame that allows the new performer to prepare and get ready. A count down is provided before the next song is played.

The StageDirector software will also display music files other then MP3 files.