The Karaoke software is enabled from the Tools - Configure Main Menu.
The requirements for Karaoke playing is that the VLC player is installed during setup of StageDirector. The VLC is used as the player for the .CDG graphic files associated with each MP3 file. If VLC is not installed and the Karaoke feature is turned on StageDirector will error.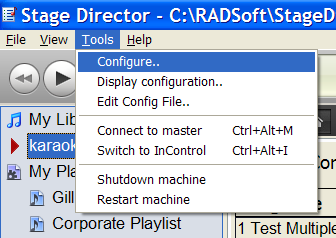 The following window will be displayed. The section that requires editing is the External Software Section.
For Karaoke to operate set the checkbox of Enabled to checked
Provide a title for the external player in this case call it Karaoke
Files Path determines the start path of all karaoke titles on the hard disk
If you use a second monitor to display the player set the Player on 2nd Display to checked
Break period (secs) is the length of time between Karaoke performances when Auotplay is checked